Welcome to Applied Project Management
This video explains the program structure, objectives, and process for learning. There is sound, so please turn on your speakers or plug in headphones to listen to the narration.
Project Initiation & Charter Development
Where to start?
Start by completing the Questionnaire: Getting to Know You to help the instructors learn a bit more about your background, experience, education, skills and goals.
Familiarize yourself with the system
Continue with the Getting Started section. Expand this section by clicking on the section title. This is a toggle to expand or collapse each section within the course. This section will familiarize you with this online learning system and provide additional information on learning for success, and general computer skills.

You can return to the Getting Started section whenever you need to. In this section, start with the Video: Introduction to Online Learning and work your way through the videos, readings and activities in order. When you're navigating around the system, play with the different options, and experiment to get familiar with the various ways to get to different items within the course.
About you

Once you're familiar with the system, complete your personal Profile, so that everyone can know a bit more about each other. Full instructions on how to do this are available in the Editing Your Online Profile reading.
Then, go to the Activity: Introductions, and post an introduction to yourself. This activity will help the other students get to know you online before we begin our discussions and exchanges. If you would like to know more about the instructors, please check out our profiles by clicking on the Participants link, and click on our names.
Course Outline
Once you have introduced yourself and you are familiar with the system features, review the Course Overview and Approach, the Evaluation & Grading, and Assignment Submission instructions. It is in your best interest to review this material as soon as possible so that you can start planning your study time.
This section also includes the General Discussion Forum where you can post questions and answers to all participants and the instructors.
Course Content

Finally, when you are ready, move on to the Introduction to Project Management and Project Initiation sections of the course and start working through the course content.
Remember: You have one week to complete this first course. Please start right away and don't hesitate to post any questions or comments you have.
If you have any difficulties with the course, post questions in the General Discussion Forum and we will respond within 24 hours.
You are also welcome to email the instructors directly if you have any questions or concerns.
Course Readings
The primary methods of presenting information in this course is through readings and samples. Rather than reading a comprehensive textbook that often provides more information and theory than necessary, the readings have been formatted to provide the essential information. Within the readings there are examples, illustrations, and instructions, to make the information as practical as possible.
Throughout the readings and activities, you will notice highlight elements on the right side of the text to emphasize information. These include course objectives, key points, and definitions.
Textbook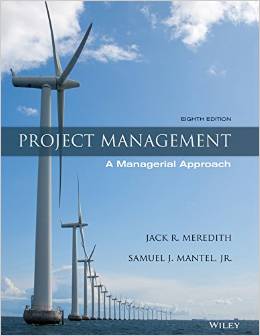 The supplemental textbook used throughout this program is Project Management: A Managerial Approach by Jack Meredith and Samuel Mantel - Any Edition. This textbook is optional, not mandatory. There are a few textbook readings distributed throughout the courses. These readings are consistent through all editions, so it is not necessary to have the most current edition. The section title is listed in the reading activity, so you can find it in the table of contents in any edition.
The first textbook reading is actually an article within the textbook, and there is a link to the online article. The next textbook reading is not until the second module of the Planning course. Consider looking for electronic copies of the textbook at online libraries.

Software
Throughout the program you will learn to use various tools to assist with project planning, tracking, measurement and control, including Microsoft Project. You do not need MS Project for this Initiation course, but you will start using it in the first week of the Planning course, and most weeks from that point on. If you are taking the Planning course right after this course, you should purchase and install MS Project as soon as possible so that you will be ready for the first time it is used.

It is possible to use any version of MS Project from 2003 to 2013 or 2019. We recommend the newest 2019 version or 2010. MS Project 2016 cannot be used for these courses because it will corrupt your file, which will result in having to redo previous assignments using an approved version of MS Project.
Interaction and Communication
As this course is delivered online, you will be directed to specific threads in forum discussions and asked to answer questions, to offer your views and, generally, to contribute to discussions on a variety of topics.
This is a highly interactive program that offers you the opportunity to exchange ideas as well as to discuss and collaborate on notions of project management concept and practice.